A significant milestone was reached over the weekend, but it was not the 'thousand deaths a day' from Covid-19 predicted by Dr Paul Hunter, Professor of Medicine at the University of East Anglia as reported by the Sun. It was that deaths attributed to Covid-19 in the UK exceeded the number of children killed daily by abortion in Great Britain based on 2018 figures, the latest available.
Abortion milestone
On average, 595 children died every single day during 2018 in what should be the safest place on earth. Many of these infanticides were at the hands of NHS staff applauded on their way to work. We should be repenting of such legalised slaughter, which can only bring the judgment of Almighty God. The church in Russia has urged repentance and prayer for deliverance.
Zech 1:3 Therefore say thou unto them, Thus saith the LORD of hosts; Turn ye unto me, saith the LORD of hosts, and I will turn unto you, saith the LORD of hosts.
Deaths from, or with, Covid-19 passed the abortion death milestone with 684 deaths reported on Friday, 708 on Saturday, 621 on Sunday before falling to 432 reported on Monday. Pray this marks the start of a decline in deaths. NHS England tells us 52% of all Covid-19 deaths have been among people aged 80 and above. Just 15 of the 5,000-odd fatalities had no underlying health condition. It is chastening to remember that when Covid-19 is a mere memory, children in the womb will continue to be massacred at the same rate, legally, across our land.
Jer 32:35 And they built the high places of Baal, which are in the valley of the son of Hinnom, to cause their sons and their daughters to pass through the fire unto Molech; which I commanded them not, neither came it into my mind, that they should do this abomination, to cause Judah to sin.
Pray for our leaders
The Guardian reports scientists struggling to understand why some apparently fit and healthy young people with no underlying health conditions have died. In addition, why do the majority of people exposed to the virus not even contract Covid-19, half have no symptoms, half do, some shake it off while others have real problems?
At the moment they have two theories. One is that some people have somehow taken in a lot of virus particles, causing 'viral overload'. The other is that there is a genetic component to how we fight infections.
The Bible tells us: 1Tim 2:2 (Pray) For kings, and for all that are in authority; that we may lead a quiet and peaceable life in all godliness and honesty.
So we pray for Boris Johnson who appears to have developed pneumonia and is at this time of writing in hospital.
STOP PRESS Tuesday 7th April 2020
Last night the Prime Minister was rushed into intensive care. No 10 say he does not have pneumonia for which the British Lung Foundation says treatment would be antibiotics with supportive care. He is not on a ventilator but receiving oxygen.  It is good to remember people also recover after ICU treatment so we are praying and fasting for the Lord to restore the PM with miraculous speed. It just takes one word from the Lord for healing, and for salvation:
Matt 8:8 The centurion answered and said, Lord, I am not worthy that thou shouldest come under my roof: but speak the word only, and my servant shall be healed.
We also pray for safety for the royal family, especially for the Queen, and for all her ministers.
Even some republicans agree Her Majesty the Queen struck the right note in her broadcast on Sunday evening. For me, a mention of those who have lost their jobs or businesses would have shown compassion. It seemed to me to be a little bit along the government line. But what could one expect?
Effects on the economy and long-term health
It seems positive cases of Covid-19 are slowing. This might mean the shutdown is having some effect or it might have happened anyway. Intuitively, if you lock up virtually the whole population as France and the UK have done, transmission rates between families should decrease, even if they increase within families. But at what economic, social and long-term health cost?
Jer 7:34 Then will I cause to cease from the cities of Judah, and from the streets of Jerusalem, the voice of mirth, and the voice of gladness, the voice of the bridegroom, and the voice of the bride: for the land shall be desolate.
Indeed, the effects on the economy, with all the implications for long-term health, are turning out just as bad as we predicted, according to this must-read report in the Mailonline. The Centre for Economics and Business Research says the UK economy is losing a staggering £2.4bn per day as a result of the shutdown of construction, schools, hospitality and general retail. The loss of these activities is also affecting manufacturing and all the small businesses which serve them. The country's output has been slashed by 31%. Moreover, it is not 'the coronavirus' causing the economic impact, but the Government lockdown measures.
STOP PRESS Tuesday 7th April 2020
Both the BBC HERE and the Guardian HERE are now reporting on a study from University College London published in The Lancet.
The academics say 'school closures have little impact on spread of coronavirus'. The 'small benefits' should be 'weighed against profound economic and social costs'.
One of the research authors, Professor Russell Viner, said: "Data on the benefit of school closures in the coronavirus outbreak is limited, but what we know shows that their impact is likely to be only small.
"Additionally, the costs of national school closures are high – children's education is damaged and their mental health may suffer, family finances are affected.
"Policymakers need to be aware of the equivocal evidence."
He says policymakers must weigh up the possible harms and reopen schools at the earliest opportunity – and not necessarily wait until September if it can be done safely sooner.
Naturally, Dr Neil Ferguson of Imperial College disagrees, so it looks like these two London seats of learning are at daggers drawn. We can but pray University College prevails and schools reopen after Easter as normal. We understand a Government review of the lockdown measures will take place on Easter Monday, 13th April. Pray for reason to prevail.
Let us not forget, king Ahab relied on false prophets, prompting king Jehoshaphat to call for a true prophet:
2Chron 18:6 But Jehoshaphat said, Is there not here a prophet of the LORD besides, that we might enquire of him?
People could lose their lives
The Guardian is reporting that 'millions could slip through' what it calls 'the virus safety net', the financial aid available from the UK taxpayer. The Institute for Fiscal Studies says many self-employed workers would still get no support. Others, it says, could be left financially better off than they would have been.
Former Tory leader Iain Duncan Smith warned the economy could only take a few more weeks of lockdown before it was damaged beyond repair. He said: 'If the economy tanks, then that affects people's quality of life, their jobs and their mental health – and significant numbers of people could lose their lives.' But it is beginning to look as if no-one in the corridors of power bothered to consider those sort of effects at all.
Professor Graham Medley, a top government advisor, is now warning that the lockdown is harming 'the incomes of people who rely on a continuous stream of money and their children'. Who knows where that will lead?
Prov 6:30 Men do not despise a thief, if he steal to satisfy his soul when he is hungry;
More deadly than the virus
Younger workers are particularly affected, as many work in the hospitality sector. Just today, Simon Kempton from the Police Federation told the Home Affairs Select Committee that the police are seeing 'the very, very early indications of an increase in suicide attempts and suicides, far too early to say that that's a real trend, but there's very early indications of that.'
Off-Guardian asks 'Could the Covid19 Response be More Deadly than the Virus?' 'The economic, social and public health consequences of these measures could claim millions of victims', they assert. Analysis from the US shows even the limited shutdown that side of the pond could have ill effects for years.
A Sky News host maintains Australia is making the same wrong decisions resulting in the same dire outcomes.
Mervyn King, who was governor of the Bank of England during the 2008 financial crisis, has warned a prolonged lockdown is unrealistic. 'If we have a lockdown for too long there will be a rebellion against it.' People will begin to realise that the government is oppressing the workers by forbidding them to work. This word shows how God regards such a sin. I should say someone putting hard work into starting a small business only to see their reward kept back by ministerial order, is also entitled to cry to heaven:
Jas 5:4 Behold, the hire of the labourers who have reaped down your fields, which is of you kept back by fraud, crieth: and the cries of them which have reaped are entered into the ears of the Lord of sabaoth.
'Irrational horror of death'
Taxes and borrowings are also certain to rise for generations as a result of the incompetence of the Government. God said through the Prophet Ezekiel: Ezek 45:9 Thus saith the Lord GOD; Let it suffice you, O princes of Israel: remove violence and spoil, and execute judgment and justice, take away your exactions from my people, saith the Lord GOD.
Former Supreme Court Justice Jonathon Sumption said the public's 'irrational horror of death' has led to unnecessarily 'costly' measures. Writing in The Sunday Times, Lord Sumption, 71, said the strict governmental measures will bring 'even greater misfortunes of a different kind'. He wrote: 'We have acquired an irrational horror of death. Today death is the great obscenity, inevitable but somehow unnatural. In the midst of life, our ancestors lived with death, an everpresent fact that they understood and accommodated.'
The Bible says: Eccl 9:3 This is an evil among all things that are done under the sun, that there is one event unto all: yea, also the heart of the sons of men is full of evil, and madness is in their heart while they live, and after that they go to the dead.
Buy a book in Berlin but not read it
EuroMomo's latest map for Week 13 of 2020 now shows England and Switzerland in 'High' excess deaths while Spain and Italy are now 'Very High'. Belgium is 'Above Expected'. However, the rest of Europe is still in 'No Excess'.
Germany is doing far better than the UK according to Worldometer, with only 1,612 deaths at this time of writing (18:00hrs 06/04/2020) and 101,178 cases. The UK was correspondingly 5,373 deaths and 51,608 cases. So we see how Germany's emphasis on mass testing has paid dividends. (Ours is only in hospitals for those who arrive with symptoms.)
As to social measures against virus spread, this can be very liberal in Germany, but varies from state to state, often amusingly.
In Berlin, for example, buying a book from a shop is still allowed but having a picnic in the park is not. In Baden-Württemberg, it's the other way around. Having purchased your book, you cannot then read it alone on a park bench in Berlin. But you could in Baden-Württemberg, or even go and visit a few friends. This chart illustrates – it's in German, but those of us not skilled in their language can get the drift. (There is also a glossary right at the bottom of this post).
'Nightingale Hospital' not yet needed
The BBC reports how leaden-footed the UK Government was about issuing proper advice which could have protected the vulnerable, and rolling out testing.
Meanwhile we hear the much-vaunted 'Nightingale Hospital' in London's Excel Exhibition Centre will be late opening because of lack of demand for beds. The Unredacted website reports "London hospitals are currently coping with their case numbers." Average weekly death rates are not that different from previous years. Remember that apart from abortion deaths, the average number of deaths in the UK is 1,640 per day, more in the colder months, fewer in summer.
Indeed, the London Evening Standard reports that total deaths in England and Wales in the week ending 27th March were 11,141. That's 1,011 more than the five-year average. Nevertheless, only 539 mentioned Covid-19 on the death certificate, which was fewer than 5% of the total. The week ending 3rd April should show 2,800 Covid-19-related deaths, but that will still only be some 17% of the total.
And remember that 'Protect the NHS' always really meant 'Protect the Conservative Governments' reputation'. I am sorry to say it, but even applauding NHS workers was dreamed up by some bright spark in a cynical move to divert attention away from the Department of Health's shortcomings. Why does the number of hospital beds and ICU places fall so far short of those in Japan and Germany? We have reported this legitimate question earlier. The cost of providing them would have tiny compared with the financial disaster now looming as a result of lockdown.
Diamond Princess data
Writing in Science News, Dr Tina Saey explains that out of 3,711 people aboard Diamond Princess, 634, or 17%, contracted Covid-19. Just over half, 328, had no symptoms. Of the 306 with symptoms, the fatality rate was 1.9%. Of all infected, 0.91%. Moreover, the passenger list was strongly weighted to the retired. Indeed, among the over 70s, the fatality ratio aboard was 7.3%. Extrapolating the figures to China yielded 0.5% of fatalities among those infected. Nevertheless, 83% of Diamond Princess passengers did not contract the virus, even in those close-quarter conditions.
Plug those figures into the UK, and the numbers of deaths if the Government just did nothing was not 500,000, as Dr Neil Ferguson of Imperial College claimed, but more like 50,000. Yet the Prime Minister fell for the Ferguson scare.
Naughty children
The Sunday Express told us the Government could stop us going outside to exercise in retaliation to thousands taking advantage of the fair weather over the weekend. In something resembling a teacher's speech to a class of naughty children, Health Secretary Matt Hancock said, "The vast majority of people are following the rules, let's not have a minority spoiling it for everybody." Labour's new leader, Sir Keir Starmer, astonishingly agreed.
Yet journalist Barney Ronay remembered a report last year:  'Public Health England's paper states that "physical inactivity is responsible for one in six UK deaths and is estimated to cost the UK £7.4bn annually".'
Furthermore, 'Data suggests children from low-income backgrounds are already less physically active than those from wealthier backgrounds, and three times more likely to be obese by the age of 11.'
Driving to Fife poses no risk
The Guardian reports on Scotland's Chief Medical Officer flouting 'the rules' by driving for an hour from Edinburgh to her holiday home in Fife. One can view that as the arrogance of the establishment. But perhaps the Chief Medical Officer knew full well that driving from one home to another with her husband posed absolutely no risk to anyone. Catherine Calderwood has now resigned.
The Lord Jesus said of the Pharisees: Matt 23:3 All therefore whatsoever they bid you observe, that observe and do; but do not ye after their works: for they say, and do not. However, at least the Pharisees were interpreting the law, rather than making it up as they went along.
Those taking the sun in South London's Brockwell Park appeared to be maintaining social distances, so to that extent they were observing and doing, even if they had counted that to stay indoors was an observance too far.  Lambeth Council closed the Park in retaliation on Sunday.  Thank God they re-opened it on Monday.
'Be reasonable and proportionate'
Indeed, The BBC reports some leading politicians beginning to see sense. 'Newly elected Labour deputy leader Angela Rayner MP told Sophy Ridge it was "all right for people who have got big houses and huge back gardens" to tell sunbathers observing social distancing to stop doing so.
'"If you're stuck in inadequate accommodation… and you're all on top of each other, quite literally, then I think people should do social distancing and should keep their distance, but also be reasonable and proportionate about that," she said.'
Our politicians almost without exception have no idea of what it is like to be imprisoned in an apartment for hours at a time. Nor do I for that matter. Judy and I can go outside and tend the farm any time we like. But a lot of people and some of our members do not even have a garden.  The Guardian's Lynsey Hanley says: 'Our experiences of the lockdown are shaped by class.'
All 'play our part'
And it really seems the lives of ordinary people fail to register with most of the elite.
A young reporter sent at 10.30 am to interview the late Sir Noel Coward allegedly found the musician and bon viveur (I am being kind) in his silk dressing gown washing down his breakfast with champagne. The young man asked in an astonished voice, 'Sir Noel, you are drinking champagne with your breakfast?' To which the mystified louche replied, 'My dear boy, doesn't everyone?'
Mr Hancock said he was expecting Covid-19-related deaths to peak 'in ten day's time, on 13th April. But only if we all play our part'. However, one could argue the Government did not play their part. And that is exactly what the Daily Express reports here. The Government ignored warnings from the World Health Organisation to prepare for a new virus pandemic and gear up for mass testing. Even in December, after the general election, the need for testing was becoming clear from China's experience. Still the UK did nothing.
Competence and fear of God
The Bible says:
Prov 20:18 Every purpose is established by counsel: and with good advice make war.
Action supposedly to stop the spread of Covid-19, or to slow the death rate, is portrayed by the media as a 'battle' or as a 'war'. In 1917, we were properly at war and the Allies launched the Battle of Arras. Siegfried Sassoon refers to it in his poem 'The General':
"Good-morning, good-morning!" the General said
When we met him last week on our way to the line.
Now the soldiers he smiled at are most of 'em dead,
And we're cursing his staff for incompetent swine.
"He's a cheery old card," grunted Harry to Jack
As they slogged up to Arras with rifle and pack.
But he did for them both by his plan of attack.
After 39 days of fighting, 300,000 young men, evenly from both sides, lay dead or injured. From Sassoon's poem we see that leaders carry a terrible responsibility. By their decisions we can indeed, one way or another, be 'done for.' Leaders must be more than cheery, they must be competent. They must weigh up advice dispassionately and make rational decisions for our benefit, not theirs.
2Sam 23:3 The God of Israel said, the Rock of Israel spake to me, He that ruleth over men must be just, ruling in the fear of God.
C.S.Lewis wrote:
Let scientists tell us about science. But government involves questions about the good of man, and justice, and what things are worth having at what price; and on these a scientific training gives a man's opinion no added value.
Pray for an end to the lockdown. Pray our leaders will be men like this:
Exod 18:21 Moreover thou shalt provide out of all the people able men, such as fear God, men of truth, hating covetousness; and place such over them, to be rulers of thousands, and rulers of hundreds, rulers of fifties, and rulers of tens:
Pray for those kind of men to be appointed, to be wise, competent and God-fearing.
Read our previous articles:
Fearfully and wonderfully made: (How God has equipped you to fight Covid-19.)
Lock-down 'putting lives at risk'
Coronavirus: No fear of 'the pestilence'
Rough German to English glossary
einkaufen = shopping
buchladen = bookshop
ausweis = ID card
hause = home
demonstreren = demonstrate
besuchen = visit
wohnung = flat, apartment
verlassen = to leave
triftigen = important
einen = one, vier = four
bekannten = known
offentlichkeit = public / publicity
treffen = meeting
baumarkt = hardware store
alleine auf der parkbank ein buch lesen = reading a book alone on the park bench
We appreciate your support – without it we can't do our research and help inform your prayers.
So click below to join Christian Voice and stand up for the King of kings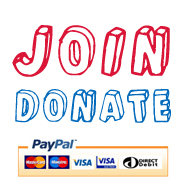 Click on the social media