BBC Newsnight was busy wheeling out the anti-Russian hacks last night.
First up was its reporter Gabriel Gatehouse with a very well-produced and thoroughly disingenuous video.  Do watch it.  (All our links open in a new tab automatically.)
Mr Gatehouse saw all sorts of dodgy images literally through what we were supposed to understand was a bottle of vodka. The barman morphed into a V-for-Vendetta Anonymous mask. Why? Then Russian dolls, clowns, Mickey Mouse, RT, Vladimir Putin. Ours is 'a world of total relativism', he said.  Speak for yourself, Gabs!
Theresa versus Sergei
Then we moved to Douma and Theresa May.  She was obviously someone we could trust.  Unlike those dodgy Russians.  She said: 'If they are found to be responsible, the regime and its backers, the Russians, must be held to account'.
They weren't found to be responsible.  The UN has only just allowed OPCW inspectors in to Douma.
But the UK still sent aircraft to bomb Syria, including two sites specifically cleared by the OPCW of having any chemical weapons.
Now the Gabriel Gatehouse BBC Newsnight video switched to Sergei Lavrov.  (Dodgy Russian, he is.)  He had information that the UK had orchestrated the Douma incident, he said, through the allegedly humanitarian 'White Helmets' who work in jihadist-controlled areas of Syria.
But it is a fact that the 'White Helmets' were the only source for the information for the Douma attack.  The UK astonishingly set up and continue to fund the White Helmets group. So we should expect the 'White Helmets' to advance the UK position on Social Media and in films to Reuters. Because the UK line still is that Assad must go and Syria be turned over to murderous jihadis.  So the trustworthy one is actually dodgy and the dodgy one more likely to be telling the truth.  Oh dear.
Check out this video of musician Roger Waters denouncing the White Helmets at a concert after receiving emails from them asking for his support.  Well done him.
Atlantic Council funded by armaments
And then BBC Newsnight wheeled out Ben Nimmo. He used to be press officer for NATO. Now he appears to work for something called the 'Digital Forensic Research Lab' at the Atlantic Council.
The Atlantic Council has been busy recently. It sent out Dr Hisham Hellyer to berate the Christians who visited Syria the weekend before last. It's funded by a host of arms manufacturers. Moreover, its funders depend on there being a 'Russian Threat'.
Without any sense of shame, Ben Nimmo was still talking about 'Russian Trolls' on Twitter. Earlier, he said they included UK pensioner Ian Shilling and Syrian-Australian activist Maram Susli . The latter goes both as SyrianGirlPartisan and plain Syrian Girl on YouTube. But neither is a Russian 'troll', as Mr Nimmo has suggested.
Mr Gatehouse said accurately that the Douma attack either happened or it didn't. But he went on: "Meanwhile, in the world of information warfare, the Russians are on the offensive." Is not the BBC also on the information warfare offensive?
The Blair lies that led to the Iraq war
Newsnight continued with the Russian Ambassador reminding us of what Tony Blair said in March 2003, preparing the UK for war with Iraq. 'My judgement as prime minister is that this threat is real, growing and of an entirely different nature to any conventional threat to our security that Britain has faced before.'
Fast forward to October 2015.  Tony Blair: 'The program in the form that we thought it was did not exist in the way that we thought."
'Russia is using a mix of methods to produce a potent propaganda cocktail', Mr Gatehouse went on.  Ben Nimmo came back to speak of Russian 'state-controlled sites and diplomats'. As if the BBC is independent. Then 'you have allegedly independent websites and broadcasters,'  he said.  (Like the various UK news mainstream media (MSM)?)  You also have trolls and bots, apparently. But 'they all work together, they all amplify the same message', as if the British MSM and Government do not do the same.
Media Group-Speak
And we have seen them do it not merely on Syria, Salisbury and Russia. The media group-speak is there on abortion. Most recently there is unanimity on whipped-up opposition to pavement activists.
It is there on sodomy against the name of which none dare speak.  MSM group-speak is present referring to gays having 'husbands' and lesbians 'wives'.  Or about Tom Daley and Mr Black 'having a baby together'. It is even there on transgenders. They are always called by their chosen gender rather than their real one.
It is a real challenge for the prophets of God to know truth from fiction.  Group-speak affects Parliament.  We even have to remember Christian MPs are fallible human beings like us, with foibles and mini-agendas. It is all the more reason to be grounded in the word of God.
Isaiah 40:8  The grass withereth, the flower fadeth: but the word of our God shall stand for ever.
And we thank God for alternative media like Christian Voice, Off-Guardian, RT, the Way, Antiwar.com, Christian Concern.  Journalists Patrick Cockburn and Robert Fisk and often the BBC's Jeremy Bowen are refreshingly off-message on the Middle East.  It would be remiss not to mention journalists like Neil Clark and Vanessa Beeley and tweeters such as @Ian56789 and @PartisanGirl.  They may not always be right, but they bring perspectives and information.  All this can be weighed against scripture.
Truth has fallen
For BBC Newsnight, Ian56, despite being a real man, is 'a Russian bot'. Do they know what a robot is? And if you so much as mention 'False Flag', you are a Russian stooge.  More footage of Mr Gatehouse squinting through the bottle.  And then we discover he can speak some Russian. He contended that states used to try to persuade the public to trust their version of events. But these days, they want us 'to trust nobody'.  However, that is just his contention.
We British, in our law-making, have rebelled against every one of the Ten Commandments. But recently, 'Truth has fallen' as Isaiah put it. There was a time when the public trusted what their leaders told them. They may have been wrong to do so.  But they trusted them as men of honour anyway.  With Tony Blair that went.  With David Cameron trust was consigned to history as he shamelessly pretended in Parliament there were 70,000 moderate Syrian men to fight ISIS.
Sadly, Theresa May is pouring more poison down an already contaminated well of public trust. She has tried to pretend there is evidence implicating the Russian state in the Salisbury poisoning and the Syrian state over Douma. But there isn't. All she has is that mysterious concoction 'intelligence'.  There was 'intelligence' about Iraq's 'weapons of mass destruction' which could reach the UK 'in 45 minutes'.  If intelligence is something posted by the White Helmets on social media it is valueless.
WhatAboutism
But to raise such valid questions is to be guilty, says Mr Gatehouse, of 'WhatAboutism'. As in 'What about Iraq'?
That dealt with, he turned his fire on a group of academics known as the 'Working group on Syria, propaganda and media.'  He interviewed Dr Tara McCormack of Leicester University.  She made the valid point that in the current atmosphere, 'You are a traitor if you believe in due process.'  But, Gabriel reminded us, she has appeared on the Russian channel RT!
Then philosopher Onora O-Neill warned against 'the amount of anonymous communication that we receive.' It was a peculiar thing for Baroness O'Neill of Bengarve CH CBE FRS FBA FMedSci to say.  Everything we write in Christian Voice is referenced by links to real media.  We put anything anonymous in the bin.  Where we can, we go back to original sources. Dr O'Neill's target was a classic and ridiculous straw man.
Don't go online. Watch BBC Newsnight!
Newsnight followed up the Gatehouse video with a discussion. Evan Davies interviewed one Peter Pomerantsev and Alistair Campbell, Tony Blair's spin doctor. Campbell put pressure in 2003 on the 'spooks' to 'sex up' the 'dodgy dossier' and take Britain to war in Iraq.  Pomerantsev makes his living out of talking up Russian 'disinformation'.  There was no opposing view.  They all agreed one should not 'go online for the truth'. No, you should watch the BBC and read the Guardian! You really couldn't make it up.
Then, finally, Evan Davies interviewed Rev Giles Fraser.  Canon Fraser went to Syria as part of the Christian group with Baroness Cox two weekends ago.  A Guardian journalist slammed him for it and for pictures and commentary he tweeted.  Yes, he agreed, his tweets could have been better phrased.  Mr Davies asked: 'Are you a useful idiot?'  'I may be an idiot', replied his reverence.  'But I'm not sure I'm that useful'.  Since Giles Fraser humiliated the high priest of evolution, Richard Dawkins, with an innocuous question about the title of Darwin's book on the BBC4 Today Programme we have had a soft spot for him here.
Please pray for me. I watched Newsnight last night so you don't have to!
We'll really appreciate your support
Click below to join Christian Voice and stand up for the King of kings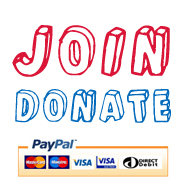 Click on the social media links below to share this post: