This is the 48-slide PowerPoint presentation Stephen was able to give to Kenya Christian Professionals, clergy, activists and dignitaries on 13th November in Nairobi.
Slide 2: What we do:
(1) We research and analyse events against scripture.
(2) Our members pray for and witness to MP's and those in public life.
(3) We go on the streets leafleting with Evangelistic Prophetic Witness, such as when London Zoo held 'Gay Sunday,' a party for homosexuals, or as we did in Nairobi at the UNFPA Summit.
Slide 5: However, a young British doctor, Linden Stocker, wrote this on the website of the Royal College of Obstetricians and Gynaecologists in 2011: 'Whilst I was in Kenya I managed to organise spending 2 days a week at the Marie Stopes clinic in Kisumu. … They perform safe, completely illegal abortions for a cost equivalent of about £30.' The cost in Kenya of a Marie Stopes abortion has since risen to around 10,000 Kenya Shillings.
Slide 6: Marie Stopes Kenya have over 20 clinics, from Kitale to Nairobi to Mombasa. MSK is a wholly-owned subsidiary of Marie Stopes International, the world's second biggest abortionist after IPPF.
Moreover, KSh 10,000 is a fraction of the true cost of an MSK abortion. Marie Stopes abortions in Africa are heavily subsidised by the West. The UK Government leads the rest with a grant to MSI in 2018 of £48 million of taxpayers' money. (NB: The Church in Kenya could close Marie Stopes by constant prayer vigils outside its facilities.)
Slide 9: The Bible says:
Num 35:33 So ye shall not pollute the land wherein ye are: for blood it defileth the land: and the land cannot be cleansed of the blood that is shed therein, but by the blood of him that shed it.
Psa 106:37 Yea, they sacrificed their sons and their daughters unto devils, 38 And shed innocent blood, even the blood of their sons and of their daughters, whom they sacrificed unto the idols of Canaan: and the land was polluted with blood.
Jer 32:35 And they built the high places of Baal, which are in the valley of the son of Hinnom, to cause their sons and their daughters to pass through the fire unto Molech; which I commanded them not, neither came it into my mind, that they should do this abomination, to cause Judah to sin.
Slide 11: Jesus said: Mark 10:6 But from the beginning of the creation God made them male and female. 7 For this cause shall a man leave his father and mother, and cleave to his wife; 8 And they twain shall be one flesh: so then they are no more twain, but one flesh.
Slide 12: Legalising homosexuality soon leads to Gvt promoting it.
United Kingdom's Equality Act 2010: Section 148 Public sector equality duty
(1) A public authority must, in the exercise of its functions, have due regard to the need to-
(a) eliminate discrimination, harassment, victimisation and any other conduct that is prohibited by or under this Act;
(b) advance equality of opportunity between persons who share a relevant protected characteristic and persons who do not share it;
(c) foster good relations between persons who share a relevant protected characteristic and persons who do not share it.
(4) Having due regard to the need to foster good relations between persons who share a relevant protected characteristic and persons who do not share it involves having due regard, in particular, to the need to- (a) tackle prejudice, and (b) promote understanding.
Slide 13: (6) The relevant protected characteristics are: age; disability; gender reassignment; pregnancy and maternity; race; religion or belief; sex; sexual orientation.
Slide 15: Public authorities include Ministers of the Crown, Government Departments (except MI5, MI6 and GCHQ), The Armed Forces, National Health Service, County Councils, Police, Schools, Colleges and Universities.
Slide 19: So, the UK then exports those evils. What David Cameron told homosexual activists at a party he gave for them in No 10 Downing Street on 22nd June 2011: '… an area where we have the ability to make progress, is the fact that gay people can be appallingly treated in other parts of the world, particularly in Africa.'
Slide 20: '(Foreign Aid) also has a spin-off benefit of giving us some moral authority (sic) in the world to talk to other leaders and governments about our relationship with them and what we expect from them. I'm very proud of the fact we [put] huge pressure on the leader of Malawi about an issue in that country but I'm convinced we can do more. We have got the ability to speak to African leaders, African governments, about this issue that I know concerns everyone here tonight. And it concerns me.' (David Cameron, UK Prime Minister)
Slide 21: Even before Mr Cameron's speech, the Department for International Development had been promoting feminism and immorality in Africa:
Social Marketing of Condoms [103545] To increase adoption of safer sexual practices among youth. Country: Kenya Budget: £15,031,330 Start Date: 01/01/2003
Slide 22: Young Voices for Change (SRH Rights and HIV/AIDS) CSCF345 [105559] Young Tanzanians (10-24) know, promote and enact their sexual and reproductive rights, including with regards to HIV/ AIDS. Budget: £499,934 Start Date: 01/04/2005
Slide 23: Western money is promoting wickedness across Africa: Not one African NGO promoting Sexual & Reproductive Health & Rights (that's abortion, LGBT and feminism) is African-funded. Every single one has its staff and expenses paid by the West. So let's follow the money …
Slide 24: Rich US homosexual Jon Stryker set up the 'Arcus Foundation' to advance gay rights world-wide. He admitted the money going to Africa to promote sodomy was around $12,000,000 / year from NGO's alone in 2010. How much is flooding in today?
Slide 25: 2015-16, top ten funders of money to Sub-Saharan Africa for LGBT (Source: 'Global Resources Report):
1 Government of Sweden $14,454,266
2 Open Society Foundations (Soros) $4,097,626
3 Hivos (Netherlands) $3,218,406
4 American Jewish World Service $3,084,250
5 Arcus Foundation (USA) $2,716,639
6 Government of Norway $2,537,539
7 UHAI-EASHRI (Kenya) $2,323,769
8 Government of Denmark $2,166,635
9 Ford Foundation (USA) $2,144,550
10 Global Equality Fund (USA) $2,033,860
Total for just the top ten: $38,777,540
Slide 26: 2015-16, top recipients of money for LGBT (Source: 'Global Resources Report) include:
3 Dept for Int Dev (RSA) $5,424,750
9 IPPF (London) $3,641,407
10 UHAI-EASHRI (Kenya) $3,497,086
Slide 27: Note above, Nairobi-based UHAI-EASHRI was listed as a donor of $2,323,769 in 2015/16 but a recipient of $3,497,086. A cool $1.1m went on their '6-25′ staff and office expenses.
UHAI EASHRI, established by Ford Foundation in 2009, claims to be 'Africa's first indigenous activist fund for sex workers and sexual and gender minorities'. But it is entirely funded by the West, not just by Ford Foundation (US), but Sigrid Rausing Trust & Baring Fdn ( both UK), Astrea Lesbian Fdn, Tides Fdn, Arcus Fdn, Urgent Action Fund, Atlantic Philanthropies, Fdn for a Just Society (all US) and others. ('UHAI' is an acronym but also means 'life' in Swahili.)
Slide 28: In an article on Saturday 23rd November 2019, the Nation newspaper revealed 'Kenya's best and worst paying jobs' It said: 'foreign-backed NGOs employed a total of 1,345 staff and 270 of them earned more than Sh100,000 monthly, making the agencies a magnet for those seeking or wanting to change jobs.' Nowhere is that more true than in Kenya's immoral NGOs.
Slide 29: In January 2011, The European Union gave a 300,000 Euro grant to promote gay rights in Cameroon to a group of pro-gay CSO's led by the 'Association to Defend Homosexuals'.
Cameroon's Foreign Minister Henri Eyebe Ayissi summoned the head of the EU delegation in Cameroon to protest against the funding of groups that "violate the laws of Cameroon." But the grant still went ahead.
Slide 30: Funding for Kenyan LGBT groups includes:
Given to: National Gay & Lesbian Human Rights Commission (NG&LHRC): (Yes, there is such a group!) By: Sigrid Rausing Trust (UK): £180,000 over three years (2016-19).
Slide 31: The accounts of NG&LHRC show its total income in 2016 was Ksh 15,976,147
Slide 33: There is also a 'Gay & Lesbian Coalition of Kenya' (G&LCK) which received $100,000 from Arcus Foundation in 2019. It also received funding from Open Society Foundations, Astrea, Hivos, UHAI, Coalition of African Lesbians, Kenya National Commission for Human Rights, Kenya Human Rights Commission, Kelin Kenya, National Coalition of Human Rights Defenders (Kenya), and the International Commission of Jurists, Kenya Section.
Slide 33: Kenya Human Rights Commission: From Sigrid Rausing Trust (UK):£100,000 in 2019. Also, 'The KHRC relies on donations from individuals and from organisations such as:' the Swedish Int. Dev. Agency, Christian Aid, Trocaire, Danish Int. Dev. Agency, UN Dev. Programme, UNIFEM, Canadian Int. Dev. Agency and Ford Fdn.
It started as a genuine human rights group, but in May 2011 the KHRC issued a report which called on the government to decriminalise homosexuality. That's when the funds started rolling in.
Slide 34: Since 2012, the Kenyan Human Rights Commission has been primarily funded by the Ford Foundation of the USA at $200,000 per year. The KHRC even wanted to bring in a Hate Crimes Law in Kenya to prevent pastors preaching against homosexuality.
Chairman: Prof. Makau Mutua
Executive Director: George Kegoro
Slide 36: Prof Matua was in Kampala in 2010 in February at a conference – again funded by the Ford Foundation – to oppose David Bahati's Bill against promotion of LGBT. The Ford Foundation is just one of around twenty NGO's giving money to Ugandan gay groups. But let's get back to Arcus Foundation …
Slide 37: In 2018, Arcus gave 'more than $15 million' 'to organizations working to advance social justice for LGBT people around the world.' Recent funding from Arcus Foundation alone to LGBT-advancing groups in Kenya:
2019: Gay and Lesbian Coalition of Kenya $100,000
2019: Persons Marginalised & Aggrieved (PEMA – Mombasa) $140,000
2019: Transgender Education and Advocacy: $100,000
2014-2018: Pembizo Christian Council $391,000 (to 'create counter-narrative to condemning religious voices')
2011-2018: UHAI EASHRI $1,720,000: ('funding for LGBT biannual conference in Africa. For Burundi, Kenya, Rwanda, Tanzania, and Uganda.')
Slide 38: 2016: Network of African National Human Rights Institutions (NANHRI) Nairobi $200,000 ('Support to the African regional platform of government-appointed human-rights institutions seeking to include LGBT rights as human rights, with a pilot project in Ghana, Kenya, Malawi, South Africa, and Uganda.')
2013-2016: Other Sheep Africa $140,000 ('to increase LGBTIQ acceptance within the Muslim community in 12 provinces of Kenya.')
2016: The East African Documentary Film Fund $20,000
2014: Chemchemi Ya Ukweli ('Fountain of Truth'!) $50,000
(Together for Transformation project, pilot LGBT training program for Muslim & Christian religious leaders.)
Slide 39: 2010 – 2012: Fahamu (Nairobi) $458,066 ('Strengthen and expand African LGBT movement … partnerships, … with African governments and private multi-national and other corporations in collaboration with UHAI-EASRHI.)
2010: Akiba Uhaki Foundation $200,000 ('support of the programmatic and convening activities of UHAI-EASRHI Uganda, Kenya, Tanzania, Rwanda, and Burundi.') ('Akiba Uhaki' sort of means 'supply justice'.)
Plus South Africa LGBT projects in: Western Cape Provincial Council of Churches, Inclusive & Affirming Ministries, Southern African Christian Initiative.
Slide 41: Immoral NGOs operate openly in Kenya:
Planned Parenthood Federation of America: Chaka Place, 1st Floor, Chaka Rd, Nairobi
International Planned Parenthood Federation: Senteu Plaza, 3rd floor Lenana/Galana Rd Junction, Naiobi. (Planned Parenthood Global is advertising in The Nairobi Star newspaper for a youth worker right NOW – Nov 2019.)
Slide 42: Open Society initiative for East Africa: ACS Plaza, Lenana Road, Nairobi, Kenya.
Kenya National Commission on Human Rights: Ist Floor,CVS Plaza,Lenana Road, Nairobi
UHAI-EASHRI: 3rd Floor, Suite 5, Rosami Court, Muringa Rd., Kilimani, Nairobi.
Slide 43: Kenya Human Rights Commission: Gitanga Road opp. Valley Arcade Shopping Center, Nairobi.
National Lesbian & Gay Human Rights Commission: Mpulla House # 4 Arboretum Drive (off State House Road), Nairobi.
Slide 44: Urgent Action Fund Africa: 2nd Floor, Riara Corporate Suites, Riara Road, Kilimani, Nairobi.
Fahamu Africa – Head Office: Block C, 3rd Floor, Peponi Plaza, Westlands, Nairobi, Kenya.
Slide 45: To stop evil coming from the West, we recommend:
(1) African, Asian and Caribbean members unite at the Commonwealth Heads of Government Meeting, the next is in Kigali, Rwanda in June 2020, and put down resolutions defending life and family.
(2) Forums like the African Union and the Caribbean Union should state their rejection of immorality and foreign aid intended to corrupt public morality.
(3) Make it clear at diplomatic levels that aid donors must respect traditional family values.
(4) Bring in local laws to prevent promotion of evil.
46 Local laws need to be passed to prevent money intended to promote sodomy and abortion in Africa from reaching its targets. We suggest:
(1) Make it illegal to corrupt public morality – in particular to promote LGBT or abortion.
(2) Proscribe the foreign NGO's involved and deny their representatives visas,
(3) Require local recipient organisations to open their accounts to discover their income,
(4) Seize foreign monies promoting immorality.
Slide 47: Christian Voice is glad to address governments, civil servants, members of parliament across Africa, Asia and the Caribbean on this issue and provide information to resist immorality.
More research needs to be done to identify all the governments, ngos, cso's, projects and amounts involved.
And, lastly, thank God Africa is starting to move, as they say in Ghana: Beyond Aid
We appreciate your support – without it we can't do our research and help inform your prayers.
So click below to join Christian Voice and stand up for the King of kings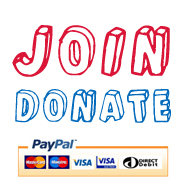 Click on the social media links below to share this post: