Ealing Council will create a protest exclusion zone outside an abortion clinic, according to a BBC report.  The unanimous Cabinet decision will prevent pro-life vigils within 100 metres (whatever those are) of the building. The Council will make a 'Public Spaces Protection Order.' That can be done under Section 59 of the Anti-social Behaviour, Crime and Policing Act 2014.
BBC's use of language
The BBC refer to the proposed area as a 'safe zone'.   So does Ealing Council.  On its website, the Council says: 'The safe zone can be introduced immediately once the five day call in period has passed'.  That, it says, means on 'Monday, 23 April 2018'.
Those attending the Marie Stopes clinic in Mattock Lane W5 will be 'safe' from suggestions they might think again.  The BBC says women 'complained of intimidation by protesters'.
However, the 'Good Counsel Network' denies harassing women.  It holds daily vigils outside the centre.
The decision, says the BBC,  will apply 'to both anti-abortion and pro-choice campaigners.'  And in that very wording, the BBC betrays its prejudice.  So let's give ours away.  These are 'pro-life' as opposed to 'pro-death' or at the very least, 'pro-abortion' campaigners.  Because there are some 'choices' human beings may never be allowed to make.  And killing another human being is one of them.
Matt 19:18  He saith unto him, Which? Jesus said, Thou shalt do no murder. Thou shalt not commit adultery. Thou shalt not steal, Thou shalt not bear false witness…
Abortion is not 'healthcare'
Apparently, 'applause in broke out in the Ealing council cabinet room following the decision'.  Nevertheless, 'a protestor (sic) then interrupted the meeting and accused the council of taking away their rights.'  There's always one trouble-maker, isn't there?
Richard Bentley, Marie Stopes UK managing director, said: "This is a landmark decision for women.
"This was never about protest. It was about small groups of strangers choosing to gather by our entrance gates where they could harass and intimidate women and try to prevent them from accessing healthcare to which they are legally entitled."
'Healthcare?'  Ripping an unborn child out of its mother's womb is not 'healthcare'.  It's infanticide.
Prov 6:16  These six things doth the LORD hate: yea, seven are an abomination unto him. 17  A proud look, a lying tongue, and hands that shed innocent blood …
Ealing Council could set a trend
More than 300 people wrote to the council describing the pro-life protesters as "intimidating and harassing".  In response, 'those against abortion have said women are not being offered enough alternatives.'
A report presented to the council cabinet concluded that, following unsuccessful attempts to negotiate an informal "safe zone" near the clinic entrance, a public spaces protection order was appropriate.
The report also refers to "continued deployment of policing resources" outside the clinic.  This was an "unusual and unnecessary use of local policing resources that could be deployed elsewhere".  But it seems the police were there to prevent trouble from pro-abortionists.
The BBC says the decision 'could pave the way for other councils to follow suit.'  Council leader Julian Bell said he felt the cabinet had done "absolutely" the right thing.  He said: "I believe that this is something that's long been needed.  So it feels good that we are actually breaking the ground with this and leading the way.  "I'm personally a practising Christian myself and so I think it's important to recognise that this is about protecting women from harassment and intimidation."
Sham consultation
Elizabeth Howard, a spokeswoman for Be Here for Me, said: "It's what we expected, after really what can only be described as a sham consultation by the council.
Index on Censorship agrees.  The free-speech lobby group points out the consultation on exclusion zones 'was not open to non residents of the borough'.
Moreover, it says the zone 'sets a dangerous precedent that could have far-reaching impacts on the right to protest and freedom of expression.
'There are alternative legal remedies already on the books that can be used to police harassing and intimidating behaviour, as Ealing's own options document pointed out.'
'unlawful and disproportionate'
Index on Censorship goes on:  'The use of buffer zones to prevent protests could be used against all forms of speech – including those that wish to protest on environmental or political issues, for example.'
Additionally, they say they wrote the leader of the Ealing Council in March.  In their letter, they described the zones as 'potentially unlawful and disproportionate'.
Ealing says: 'Councillors agreed that the need to provide safe, unimpeded access to the clinic in the safe zone can be balanced with the Equality Act and the European Convention on Human Rights.'  Whether that is true may well soon be decided in a court of law.
We'll really appreciate your support
Click below to join Christian Voice and stand up for the King of kings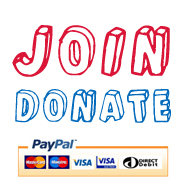 Click on the social media links below to share this post: