The Government are consulting on whether to introduce vaccine passports under what Mr Johnson has called 'Plan B' for England.
'Plan B' would come in 'at short notice' and would involve a new 'Project Fear', passports and reintroducing masks 'If the data suggests the NHS is likely to come under unsustainable pressure'.
No evidence 'measures' work
A Government proposal (linked here) published on 27th September 2021 was entitled: 'Proposal for mandatory COVID certification in a Plan B scenario.' It says: 'The government's Plan B prioritises measures which can help control transmission of the virus while seeking to minimise economic and social impacts.'
This is just an assertion. There is no supporting evidence that they 'can help control transmission of the virus' anywhere in the documents. Such evidence simply does not exist.
The measures include:
(1) 'Communicating clearly and urgently to the public that the level of risk has increased, and with it the need to behave more cautiously',
(2) 'Introducing mandatory vaccine-only COVID-status certification in certain settings' and
(3) 'Legally mandating face coverings in certain settings.'
Click here for the 'Call for Evidence'.
Responding
This link takes you straight to the consultation itself.
You will be asked to give your name and contact email. I want them to contact me. If you represent an organisation, tick 'other', otherwise tick 'member of the public' However, there appears nowhere to say you are responding on behalf of an organisation.
Under 'settings' it says: 'the government expects that mandatory vaccine-only certification for visitors to venues and events, and vaccine-or-test certification for the workforce would be introduced for the following venues and events:'
There follows a list of events. You are asked if you think the list is (a) 'too narrow' or (b) captures too many settings'. You tick that one, because 'not at all' is not an option.
Exclude all venues
However, you have an opportunity to say that on the next page: 'which should be excluded'. I said:
"All of them. Covid certification should not come in at all. It is intrusive and will harm any setting where it is introduced. There is no evidence it has worked anywhere or will work to reduce virus spread. Imperial College have found vaccinated people can still spread the virus. In June the Public Administration and Constitutional Affairs Committee concluded 'Covid passports are not the answer' to effectively managing the pandemic. The Committee warned they could 'cause great damage socially and economically.'. Its chairman described covid passports as 'unnecessary and there is no justification for them in the science and none in logic'."
The next page asks about vaccine status. I don't mind whether people are vaccinated or not. I strongly disagree with certificates for both visitors and staff. So I tick those bullets.
The next two questions assume certification. I click 'Don't know' for both then clarify that response in the 'additional comments' box: 'Venues should not have certification so there should be no requirement on staff to be vaccinated or tested.'.
Exempt everyone
On the next page you can make clear that 'other groups' should be exempt. Clarify that on the next page to say 'everyone should be exempt and covid certification should not come in at all'.
The next page needs bluntness and clarity. There are no groups who would benefit from certificates and all will be disadvantaged.
Finally, in the last comment box, I said this:
"The government official review of vaccine certificates published in July ruled Whitehall 'will not mandate the use of Covid-status certification as a condition of entry for visitors to any setting,' on the basis that the 'burden' of such a mandate would be 'disproportionate' to any public health benefit accrued. The Government must stick to that pledge."Only this morning the BBC reported that Portugal has just scrapped the requirement to present a negative Covid test result or certificate of vaccination in hotels."Instead of certification and vaccinating school-children the Government should scrap all plans for further restrictions, repeal the legislation, and get back to normal before nit is too late to save vast swathes of the economy and people's livelihoods."
As to 'What could we do better?' my answer is: 'Include the option to say no to certification altogether.'
You write as you see fit, then click 'Submit'.
'Pointless'
Mark Harper MP, chairman of the Covid recovery Group, tweeting as @Mark_J_Harper, said this about the certification measure earlier this week:
'Very disappointing to see this vaccine passport proposal. No evidence published to justify it. No commitment to a Parliamentary vote in advance'.
He went on: 'Vaccine passports are *still*: Pointless, Damaging, Discriminatory.'
We agree. You can also Use this link to the UK Parliament website to email your MP to ask that the Plan B proposal for vaccine certificates is scrapped. Frankly, you can tell your MP, after eighteen months of Covid-awareness, and with the winter flu season due to start in three months time, for the Government to once again suggest the NHS might 'come under unsustainable pressure' is to admit an astounding lack of preparation. Why have they not recruited and trained or issued low-cost visas for enough doctors and nurses to make sure the NHS is fit for purpose?
We appreciate your support – without it we can't do our research and help inform your prayers. So click below to join Christian Voice and stand up for the King of kings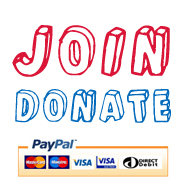 Click on the social media links below to share this post: