We are opposed to local lockdowns and taking away the jobs of people in the hospitality industry to allow schools to re-open, as if there is any need for such 'trade-offs', as Covid-19 peters out in the UK.
Firstly, The BBC reports the shocking news that 'since the easing of lockdown restrictions, hundreds of young people have been gathering, drinking alcohol in large groups in Cardiff Bay.'
They were gathering out of doors last weekend because pubs and cafes have only been allowed to re-open indoors since Monday.
But it is good that young people are meeting, building up immunity in the population against the not-now-so-deadly Covid-19.
Rules 'unclear and conflicting'
Meanwhile, in Manchester, The BBC says people are struggling to understand the new 'lockdown lite' rules, let alone observe them.
Their reporter asked: 'so, after a weekend under the new measures, are people in Greater Manchester respecting or ignoring the new restrictions? And is it clear who you can meet in a beer garden but not in your back garden?' After weeks of confining people to their homes, now they can meet up outside. But can they form a short-lived 'bubble' with another family? Who knows?
The BBC quoted Abbie Chadd, 35, an education consultant in South Manchester. She 'said the rules are "so unclear and somewhat conflicting:
'"I was gutted to see the new restrictions put in place but I fully understand the need to prevent the further spread of the virus.
'"Having visited the same park nearly every day since the start of lockdown, this weekend it was by far the busiest it has been throughout.
'"People were clearly trying to adhere to the guidelines about being outside of their homes when meeting others, but I am not sure how this situation is better than small groups meeting in private gardens".'
In fact, Abbie is wrong. There is no 'need to prevent the further spread of the virus.'
No rise in infections
Even Nick Triggle, the BBC's Health correspondent is suggesting the UK is 'in a better position than we think' over Coronavirus.
He wrote: 'It was one of the more curious aspects of last week's warnings that the government seemed so ready to embrace the concept that infection rates were on the up.
'This is a government that all along the way has been trying to mount a vigorous defence of its record.
'The surveillance programme – run by the Office for National Statistics – did suggest they were rising.
'But there has to be heavy caveats around these findings – they are based on just 24 positive cases among nearly 30,000 people over the course of two weeks. Drawing conclusions from such smaller numbers is fraught with difficulties.
'The other key source of data – the cases found by testing – shows numbers have started going up. They are now more than 40% higher than they were in the second week of July on a rolling-seven day average.
'But that masks the fact the number of tests being carried out is increasing and being targeted at areas where infection rates are highest.
'If you test more, you are likely to find more … so if you look at the percentage of tests that are positive, the rise is marginal once you iron out the daily fluctuations.'
More testing means more cases
Let us understand this. the Government are finding more cases because they are testing more people at random. And many of those who test positive are asympyomatic. They aren't even ill. There is no increase in hospital admissions.
These points are also made by Professor Carl Heneghan. This man of sense heads the Centre for Evidence-Based Medicine at Oxford University.
He says it is essential to adjust for tests being done and is concerned about what he calls 'poor interpretation' of data. Covid cases, he says, simply aren't rising in any meaningful sense.
Common sense like that has not stopped Nicola Sturgeon closing all pubs in Aberdeen after what she thinks is a 'significant outbreak' of, wait for it, 54 cases.
That is fewer than the number of pubs of Aberdeen. People are being told not to travel to the city. Because of 54 cases, most likely among young people, and probably mainly asymptomatic, people may not socialise, travel, or earn a living. It is oppression.
ONS says deaths below average since June
Furthermore, the death rate in the UK is has been below average since mid-June. The NHS is currently distinctly under-whelmed. Nevertheless, The Mail reports on 'The full health cost of lockdown: Doctors warn of a devastating toll on non-virus patients who still face delays in diagnosis and care'.
The Office for National Statistics reports:
'The number of deaths registered in England and Wales in the week ending 24 July 2020 (Week 30) … was 1.8% below the five-year average (161 deaths fewer). This is the sixth consecutive week that deaths have been below the five-year average.
'The number of deaths in care homes, hospitals and other communal establishments remained below the five-year average in Week 30, while the number of deaths in private homes continued to be higher than the five-year average (727 more deaths).
'Of the deaths registered in Week 30, 217 mentioned 'novel coronavirus (COVID-19)', the lowest number of deaths involving COVID-19 in the last 18 weeks and a 26.4% decrease compared with Week 29 (295 deaths), accounting for 2.4% of all deaths in England and Wales.
'In Wales, the total number of deaths was similar to the five-year average (one death fewer) for Week 30, while the number of deaths involving COVID-19 decreased to seven deaths registered (from 11 deaths in Week 29), the lowest number registered since Week 12 (16th – 22nd March – just before lockdown) when there were two deaths.'
Limits and 'trade-offs'
And yet we are still hearing Professor Christ Whitty drone on about 'the limits of opening up'. Meanwhile, the BBC's One Show last night asked people in the street about the sort of 'trade-offs' they would accept to allow schools to re-open. The reporter suggested closing pubs and restaurants.
Even today, as the Express reports, Schools Minister Nick Gibb has confirmed all children will return to education in September including in areas under local lockdown. But he is 'warning pubs and non-essential shops could be closed again as a result.'
With Coronavirus in retreat, this Government minister still speaks of 'keeping children in .. class-sized bubbles in primary schools, year-group bubbles in secondary schools – making sure children aren't unnecessarily mixing with other children in the school, staggered lunch breaks, staggered play times, doing everything that we can to minimise contact – one-way systems through schools and so on – so that children are safe in school.'
'Safe' from LGBT propaganda?
'Bubbles' are dystopian. One-way systems are not practical. Nor are staggered lunch breaks and play times. As for 'children are safe in school', it would be good if they were indeed safe from the homosexual and trans propaganda he still believes schools should be ramming down their throats. But if he means safe from Covid-19, Mr Gibb is a trained accountant. He must have enough familiarity with figures to know children are the lowest risk group. No child has died of Covid-19, virtually world-wide.
Moreover, Mr Gibb is clearly not on the same page as the Prime Minister. The Guardian reported just two days ago: 'No 10 also argues that closing pubs or other parts of the hospitality industry would not necessarily be effective, given the importance of transmission between households in local outbreaks, such as those which prompted emergency restrictions for millions of people in the north of England.'
We covered the unnecessary 'restrictions' and the fictitious 'local outbreaks' above.
Join Christian Voice!
In this month's Christian Voice newsletter, I show that the Lord himself can and does send lying spirits into those who give advice and brings about stupid decisions from rulers. That appears to be what has happened with our Government.
They have not been rational since the day they announced lockdown back in March. Furthermore, they show no sign of adopting wisdom (which begins with fear of the Lord) any time soon. the Lord sends stupid decisions as judgment, and corrupting the young is right up there in terms of national sin.
Matt 18:6 But whoso shall offend one of these little ones which believe in me, it were better for him that a millstone were hanged about his neck, and that he were drowned in the depth of the sea.
Join Christian Voice today and receive by post your free copy of the August newsletter. As well as Covid-19 and wrong decisions and Stupid decisions – from the Lord, we also have That Russian Report, with President Putin cast as a 'Dangerous Man' (!), Belarus rejects IMF demands (with the Word Bank and IMF explained), Poland ditches the feminist propaganda of 'Istanbul' and an in-depth look at Black Lives Matter.
We appreciate your support – without it we can't do our research and help inform your prayers.
So click below to join Christian Voice and stand up for the King of kings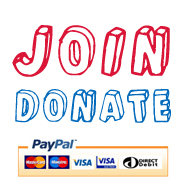 Click on the social media links below to share this post: