A group of over 200 MPs opposed to the United Kingdom leaving the European Union without a deal are to meet the Prime Minister today.
Sky news reports: 'The politicians are from the Conservative, Labour, Liberal Democrat, SNP and Plaid Cymru parties and the letter was written by Meriden MP Caroline Spelman (Conservative) and Birmingham Erdington MP Jack Dromey (Labour).'
How it will go
This is what will happen at the meeting:
Mrs May will make sure everyone has a drink of some sort. That is what she did yesterday, says The Sun, when she entertained Conservative and DUP MPs including Boris Johnson and Nigel Dodds, as stage one of her charm offensive. Not that any changed their minds, but hey, one does what one can. Then after a warm welcome, the Prime Minister will ask the 200 MPs about their concerns.
They will say manufacturing in the UK, especially in the Midlands, will grind to a halt if there is no deal. Thousands of their constituents will lose their jobs. There will be no exports to the EU any more, and no drugs or nurses for the NHS. It will be like jumping off a cliff-edge. Or being involved in a car-crash. Aircraft will fall out of the sky, some may assert. Others will report the Chicken Licken Think Tank has said the sky itself will fall down.
Mrs May will immediately express herself extremely sympathetic to the MPs. She will say she understands their concerns. The Prime Minister will add she fully shares their horror of leaving the EU without a deal. It really must not happen, despite Government planning for it just in case. 'No Deal' would be unthinkable, she will say, nodding her head earnestly.
What deal do the 200 MPs prefer?
That is why, she will continue brightly, the assembled MPs must vote for her deal. The only way to safeguard against No Deal is May Deal, she will tell them. A vote against May Deal would be 'uncharted territory' at best.
At that moment, many of the 200 MPs will say they oppose May Deal. 'Oh I see', the Prime Minister will respond, appearing shocked, 'Then what deal do you prefer?' At this, some will say they would like a Canada Deal, others will propose a Norway Deal. Some will say 'the People' should decide in a #PeoplesVote. Still others will venture that actually, to be honest, they want the UK to Remain in the EU.
'Oh dear,' Mrs May will say, 'But if you cannot even agree amongst yourselves what deal you prefer, and some of you even want the 'no deal' of remaining, and you all know there is no time for a second referendum even if were democratic to hold one which it isn't, then No Deal is the only outcome left standing.
It has to be May Deal
'But we don't want No Deal', they will wail. 'Our constituents' jobs, no more exports, drugs, nurses, aeroplanes and cars crash, sky falls down, etc.'
'That is why', Mrs May will repeat, 'You must all vote for my deal. It's the only way to prevent No Deal.'
After more drinks and more exchanges, the 200 MPs will leave. They will leave reflecting on a lesson learned. It would have been much more clever to hold a series of indicative votes among themselves before they went in so they could present Mrs May with one collective preferred option. But it's too late now. In fact, it really is too late now.
As for Mrs May, she will sit down and plan for episode three of her charm offensive. That is tomorrow's invitation to yet more Conservative MPs for drinks and a promotional chat for May Deal. This time, of course, because so many will be in favour of No Deal, she will probably major on 'No Brexit at all' as the alternative to May Deal.  But that would mean Mrs May delaying Article 50 or pulling it altogether.  They all know she won't do either.  But it was a free drink at No 10.  And that can't be bad.
Meanwhile, the BBC reports Brexit Secretary Stephen Barclay denying there have been meetings between UK and EU officials on extending Article 50.
Spiritual significance
For the spiritual significance of coming out of the EU, see this link here on our website. And keep praying!
We'll really appreciate your support
Click below to join Christian Voice and stand up for the King of kings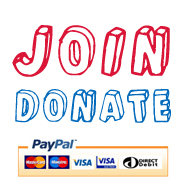 Click on the social media links below to share this post: