A Christian Voice evangelistic witness outside a transgender conference in North London touched a nerve this morning.
Five Christian men turned up to give out leaflets, pray and evangelise. But organisers at the Resource for London venue in Holloway Road took exception to us handing out our tracts on the public pavement. They alleged everything from obstruction of the entrance to hatred. None of it was true.
Gendered Intelligence
The conference was organised by an LGBT lobby group called 'Gendered Intelligence'. Its title was 'Transforming Spaces'. The idea was 'to explore the power of trans affirmative spaces'.
Real women have complained about 'trans-women' invading places they thought were women-only. Toilets, refuges and prisons spring immediately to mind. Not to mention women's sports. So the idea of self-deluded aggressive people claiming 'trans affirmative spaces' is more than a little ironic.
Our presence brought some of the organisers outside with leaflets of their own. They tried to prevent those entering taking our tracts. Nevertheless, a number of dear souls took them and went in. And we chatted to two of the conference staff: a real woman and a 'trans' one.
Freedom of Sppech
Finally, 'Gendered Intelligence' CEO, Jay Stewart, thought it would be a good idea to waste police time. So he dialed 999 and a police car arrived. Initially, Police Constable Tehrani told us to pack up and move on. He suggested we were engaged in snti-social behaviour. However, this author explained concepts such as of freedom of speech and freedom of assembly on the public highway to him.
After viewing our leaflet and calling his superiors, PC Tehrani took a completely opposite stance. By the grace of God, he and his colleague PC Herald now explained freedom of speech to the activists.
Jay Stewart was nominated as Social Entrepreneur of the Year in 2016. Creativity, self-confidence, perseverance and adaptability are said to be among the essential qualities of a social entrepreneur.
Mr Stewart certainly displayed self-confidence and perseverance as he argued with PC Tehrani. 'What if the leaflet was racist?' He asked. 'But it isn't', said the officer. 'But it's offensive', tried Mr Stewart. 'To you, maybe,' replied the policeman, 'but that's just your opinion. There's nothing unlawful in it. It's just setting out a position.' Mr Stewart was finding himself short of creativity and adaptability. He simply could not cope with Christians challenging his politically-correct establishment-approved stance.
Prayer & debriefing
So the police left and we carried on until 11am. Some continued giving out tracts to passers-by and engaging in conversations. Others prayed outside the venue, praying for hearts to be changed and for confusion to reign among the enemies of the Gospel.
We debriefed over a coffee and continued to pray for the tide to turn back and for souls to be saved.
We'll really appreciate your support
Click below to join Christian Voice and stand up for the King of kings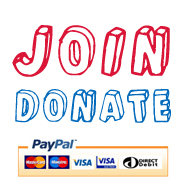 Click on the social media links below to share this post: