A new Christian film about people who have walked away from the homosexual lifestyle will not screened in central London tonight, after a venue booking was cancelled, reports Premier Radio.
Producers hired a theatre at the Vue cinema on Piccadilly for a private screening tonight of 'Voices of the Silenced'. But Vue Cinema bosses told them the event is being scrapped because it contradicts their 'values'.
Six hundred people signed a petition urging the cinema chain to cancel the private showing of 'Voices of the Silenced'. 125 guests had been due to attend the film, made by Core Issues Trust.  Here is their film trailer.
Therapists 'demonised'
The homosexual website Pink News claimed, 'Nearly every medical body in the world has disavowed gay cure therapy.' What it does not say is that they did so not because of evidence but because of gay activists turning up at their conventions and screaming at them.
On the Core issues Trust website, Dr Mike Davidson writes: 'The work of demonising any therapist supporting clients wanting to move away from any unwanted sexual attractions is almost complete. Without research evidence, … there is now no professional body willing to support client autonomy and professional intervention for those who refuse to accept homosexual feelings as normal. Only the American Psychological Association has been brave enough to admit that research has not been done which proves that such therapy is ipso facto harmful and ineffective.'
Move out of unwanted homosexual practice
Pink News goes on: 'The documentary, which compares the treatment of Christian gay 'cure' therapists with the plight of Jewish slaves in Roman times, was said to challenge the "myth… that people are born gay".'
PinkNews accused Core Issues Trust of advocating for a 'gay cure'. But Dr Davidson told Premier: 'We are not saying that folk (who) identify as gay are sick.
'What we are about are the rights and freedoms that people need to have respected when they want to move out of unwanted homosexual or other sexual practises – and that's what the film does.'
'Voices of the Silenced: Experts, Evidences and Ideologies' features the testimonies of 15 people from eight countries who have moved away from homosexual activity.
The Christian Legal Centre, which is supporting the Core Issues Trust's screening, says it is considering filing an injunction at the High Court, as well as taking action against Vue Cinemas under the 2010 Equality Act.
Ex-Gay 'Voices of the Silenced' are silenced
CEO Andrea Minichiello Williams said: 'Ironically, the actions of PinkNews and Vue cinema illustrate the point of the film. The Voices of the Silenced are, in fact, being silenced.'
Lucy Northmore, group PR manager for Vue International, said: 'The way we work is basically that all event bookings come through and get booked regardless, and then when we get the full content and review. We can make the decision at any time.'
The cinema only decided to drop the screening yesterday. Core Issues made the booking in November, she said. She said 'we received the content on the January 22′. Vue only dropped the film when Pink News made waves. They then denied that was anything to do with it.
'To assume that it was reviewed in reaction to the story is incorrect,' said Miss Northmore.
'Wicked Practice'
Homosexual conservative peer Lord Black of Brentwood told PinkNews: 'It is appalling that propaganda for so-called "gay conversion therapy" should be being screened here in London.' Turning morality on its head, he described such therapy as a 'wicked practice'.
Guy Black went on to call for conversion therapy to be made illegal in the UK. He described the film, a gentle documentary, as a 'hateful film, fuelling homophobia and prejudice'.
In a statement to PinkNews, lesbian peeress Baroness Barker also turned truth on its head.
People who preach gay conversion therapy are zealots who are prepared to cause great harm to LGBT people in order to perpetuate their warped view of the world,' she ventured.
Core Issues Trust chief executive Mike Davidson made headlines when he appeared on Good Morning Britain with Piers Morgan.  The video is here.  Piers Morgan expressed himself outraged, as we should expect.  He told PinkNews his organisation was considering legal action against Vue.
Facebook video goes viral
Earlier this month, an ex-gay video on Facebook called for homosexuals to repent of their sexuality and seek healing.   It has attracted 1.5 million views. US evangelical Christian group Anchored North posted the video. Pink News called it 'shocking'. It is entitled 'Love is Love' and features a rainbow flag thumbnail.
The film features a woman who claims she was freed from homosexuality because she turned to God. Anchored North said: 'It's not gay to straight. It's lost to saved.'  The film is on Anchored North's Facebook page here.
A battle is raging in the US at the moment. Nine states – New Jersey, California, Oregon, Vermont, Illinois, New Mexico, Connecticut, Rhode Island, Nevada and Washington DC all ban gay conversion therapy. Activists have tabled bills in another 16 states. The remaining 25 do not have any plans to stop it. Both Donald Trump and Mike Pence support such therapy.
Ex-gay Film wars
Film 'luvvies' predictably gushed over a recent film slamming 'gay conversion therapy'. The 'Miseducation of Cameron Post', starring one Chloë Grace Moretz, was awarded the grand jury prize at the Sundance Film Festival.
On the other hand, critics hated a film abour ex-gay Michael Glatze, 'I am Michael.'  Glatze was an 'out' activist who is now happily married.  The homosexual man Glatze 'dumped', Halifax (Nova Scotia) filmmaker Benjie Nycum made a further film 'Michael Lost and Found'.  It revolves about meeting Glatze and his wife at the home in Wyoming. Significantly, Nycom accepts that Glatze is genuiningly ex-gay and heterosexual. It is fundamental to gay ideology that no-one can change. Ex-gays must be either still homosexual really, or they never were.
Redemption in Corinth
But the Bible says there were ex-gay people in Corinth. The Apsotle Paul lists active and passive homosexuals alongside other sinners in his first letter to the Corinthians:
1Co 6:9 Know ye not that the unrighteous shall not inherit the kingdom of God? Be not deceived: neither fornicators, nor idolaters, nor adulterers, nor effeminate, nor abusers of themselves with mankind, 10 Nor thieves, nor covetous, nor drunkards, nor revilers, nor extortioners, shall inherit the kingdom of God.
Nevertheless, he immediately goes on to speak of the power of Jesus Christ to forgive, justify, sabtify and wash clean:
1Co 6:11 And such were some of you: but ye are washed, but ye are sanctified, but ye are justified in the name of the Lord Jesus, and by the Spirit of our God.
To deny the ex-gay movement is to deny the Gospel.
We'll really appreciate your support
Click below to join Christian Voice and stand up for the King of kings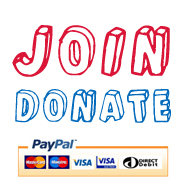 Click on the social media links below to share this post: