As the BBC reports here, the Republic of Ireland has voted overwhelmingly to overturn its constitutional ban on abortion by 66.4% to 33.6%.
A referendum held on Friday resulted in a landslide win for the Eighth Amendment repeal side.
Currently, said the BBC, abortion is only allowed when a woman's life is at risk, but not in cases of rape, incest or fatal foetal abnormality.
The Eighth Amendment, which grants an equal right to life to the mother and the unborn, will be replaced.
The Eighth Amendment
It is worth reminding ourselves of what the Eighth Amendment actually says, or said:
The Eighth Amendment of the Irish Constitution:
"The state acknowledges the right to life of the unborn and, with due regard to the equal right to life of the mother, guarantees in its laws to respect, and as far as practicable, by its laws to defend and vindicate that right."
Voters in Ireland have by a two-to-one majority specifically rejected the right to life of human beings yet to be born.  It is an astonishing snub to Almighty God:
Deuteronomy 27:25  Cursed be he that taketh reward to slay an innocent person. And all the people shall say, Amen.
Is this a manifestation of what writer G F Dalton described in his 1974 book,  "The Tradition of Blood Sacrifice to the Goddess Eire"?  Eire, or Erin, was an earth-goddess closely identified with the land.   Or perhaps still is, if she has never been formally cast out.  And according to Dalton, she demands blood sacrifice.  As we shall see below, 'twas ever thus among the pagans.
For 'women's lives'?
But what can our excuse be in the United Kingdom?  The Society for the Protection of Unborn Children says 8.4 million abortions have been carried out in Great Britain since the Abortion Act 1967 came into force in 1968.  If Satan draws power for the shedding of innocent blood, over 160,000 legalised murders per year will do him just nicely.
As always, the pro-abortion side employed duplicitous language in the Irish referendum.  One popular 'Yes' poster had the slogan, 'For women's lives'.  Women's lives were already protected by the 8th Amendment.  It was unborn babies' lives which were at stake.
As John McGuirk from 'Save the 8th' put it, "The unborn child no longer has a right to life recognised by the Irish state."  "Shortly, legislation will be introduced that will allow babies to be killed in our country," he said.
Tweeting on Friday night, homosexual Taoiseach Leo Varadkar said: "Thank you to everyone who voted today. Democracy in action. It's looking like we will make history tomorrow… "
Irish health minister Simon Harris tweeted: "Will sleep tonight in the hope of waking up to a country that is more compassionate, more caring and more respectful."  How can killing the defenceless be compassionate, caring or respectful?
Mrs May is pro-abortion
UK politicians joined in, the Prime Minister disgracefully leading the way.  Mrs May tweeted gushingly on Sunday: "The Irish Referendum yesterday was an impressive show of democracy which delivered a clear and unambiguous result. I congratulate the Irish people on their decision and all of #Together4Yes on their successful campaign. – PM @theresa_may #repealedthe8th"
Well, at least we now know where the vicar's daughter stands.  Moreover, she was urging gay rights on the Commonwealth last month.  That came days after bombing the sovereign state of Syria, an illegal act of aggression.  Does anyone still think she will deliver Brexit without our prayer and a mighty move of God?
Penny Mordaunt MP, the UK's minister for women and equalities, rallied to the pro-death banner, speaking of a "historic and great day for Ireland and a hopeful one for Northern Ireland".
Dr Sarah Wollaston MP, chair of Westminster's health committee, also called for Northern Ireland to legalise abortion.  Currently, the Province is the only part of the United Kingdom to stand against both abortion and gay marriage.
'No impact' on Northern Ireland
Indeed, all the media are talking up invented implications for Ulster.  Naturally, the BBC is taking the lead.  Meanwhile, Sinn Féin's Mary-Lou McDonald and Michelle O'Neill held up a sign saying: "The north is next".  So much for respecting the teachings of their church, eh?
But Arlene Foster MLA, the Democratic Unionist Party (DUP) leader, said the result would have 'no impact' in the North.
"Friday's referendum has no impact upon the law in Northern Ireland, but we obviously take note of issues impacting upon our nearest neighbour," Mrs Foster said in a statement.
"The legislation governing abortion is a devolved matter and it is for the Northern Ireland Assembly to debate and decide such issues."
Feminism's dirty little secret
Shadow Attorney General Shami Chakrabarti exposed feminism's dirty little secret.  It is inherently pro-death.  Abortion is 'a feminist test,' she said.  She called for the Prime Minister to introduce abortion to Ulster over the heads of the DUP.  And why should Mrs May do that?  Because she was a "self-identifying feminist," said Baroness Chakrabarti.  "The test of feminists is whether they stick up for all women", continued the noble lady.
Abortion is not of course 'sticking up for all women'.  But it is sticking it to Almighty God.  And that is what matters to feminists.
Nevertheless, the words of the Lord of life to Israel echo down the ages:
Deuteronomy 30:19 I call heaven and earth to record this day against you, that I have set before you life and death, blessing and cursing: therefore choose life, that both thou and thy seed may live:
Blood defiles the land
Pray for Ireland and for the United Kingdom of Great Britain and Northern Ireland.  Pray there will soon come a time when we shall look back in horror at legalised abortion.  That we shall hang our heads in shame and repent as a nation.  Pray the two-to-one majority will reverse by the grace of God.
Some of us still cite this word to Solomon.  We think the actions described, if carried out by Christians, or even some Christians in a gathering for prayer, will bring about the healing of our land:
2Chron 7:14  If my people, which are called by my name, shall humble themselves, and pray, and seek my face, and turn from their wicked ways; then will I hear from heaven, and will forgive their sin, and will heal their land. 
Here is the stark reality.  It does not matter how big the gathering or how sincere the prayer.  Our land will never be healed while the blood of innocents flows daily from the abortion clinics of Great Britain.  For that matter, it will never be healed while true restoration is not made for the victims of murder.  Prayer is never wasted, but how much better to pray targeted prayers.  That means prayers for repentance, not prayers of self-delusion.  The Bible says clearly:
Num 35:33  So ye shall not pollute the land wherein ye are: for blood it defileth the land: and the land cannot be cleansed of the blood that is shed therein, but by the blood of him that shed it. 
Abortion is our version of pagan sacrifice
God judged the Canaanites specifically because they shed the blood of their own children in pagan sacrifice:
Lev 18:25  And the land is defiled: therefore I do visit the iniquity thereof upon it, and the land itself vomiteth out her inhabitants.
Even the people of Israel and then Judah fell into these evil pagan practices:
Psalm 106:38  And shed innocent blood, even the blood of their sons and of their daughters, whom they sacrificed unto the idols of Canaan: and the land was polluted with blood.
Every pagan society has engaged in human sacrifice.  Abortion is our version of it.  God is judging us with the violence on our streets.  The Almighty is even warning us through that judgment.  But make no mistake, a greater judgment is coming should we not repent.  Every one of those pagan societies was destroyed and taken over by a spiritually stronger people.  Now, who could those be today?
We'll really appreciate your support
Click below to join Christian Voice and stand up for the King of kings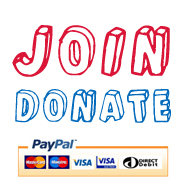 Click on the social media links below to share this post: